[Updated 1 December 2021: For those who might have missed this webinar, here are the webcast and the photos.]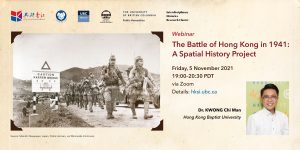 Webinar
Friday, 5 November 2021, 19:00–20:30 PDT
The Battle of Hong Kong in 1941: A Spatial History Project
Dr. KWONG Chi Man, Hong Kong Baptist University
via Zoom
This talk introduces our spatial history project "Hong Kong 1941," which uses geographic information systems (GIS) to build an interactive web map about the Battle of Hong Kong and a database of British military installations in Hong Kong during the Second World War. It offers an easy-to-use historical database for educators, tourists, and conservation professionals. There have been numerous studies on the Battle of Hong Kong in 1941; in recent years, more primary sources are available in the form of the memoirs of those who had experienced it. However, it has been a challenge for researchers to show the spatial and temporal dimensions of the battle and their relationship with the events, the people's experience, and the war ruins that still exist in Hong Kong. The spatial history project "Hong Kong 1941" tries to tackle such a challenge and aims to bridge the gaps that existed between the British and Japanese accounts to offer a clearer view of the battle and to show the diverse experiences of the combatants and the civilians during the eighteen days of fighting. It also serves as a platform where stories often overlooked by war narratives are exhibited in conjunction with the major events.
Dr. KWONG Chi Man is an associate professor in the history department of Hong Kong Baptist University. He specializes in the military and naval history of modern East Asia, particularly from the Sino-Japanese War (1894–95) to the 1970s. He has published Eastern Fortress: A Military History of Hong Kong, 1840–1970 (co-authored; Hong Kong Book Prize 2019) and War and Geopolitics in Interwar Manchuria (Brill, 2017). His works can also be found in Modern Asian Studies, War in History, and Journal of Military History. His latest book, Hong Kongers in the British Armed Forces, 1860–1997, is forthcoming from Oxford University Press.
This webinar is organized by the UBC Hong Kong Studies Initiative and co-sponsored by: Department of Asian Studies, Department of History, Centre for Chinese Research, Public Humanities Hub, and the Interdisciplinary Histories Research Cluster.
Registration for: "The Battle of Hong Kong in 1941: A Spatial History Project"
Registration for this event is now closed.